I once read that 70% of all jobs are not published on jobs sites. And 80% of jobs are filled through personal or professional connections. Although those stats are not specific to games, it's likely that if you are only looking on job sites, you are missing out on the vast majority of games user research roles.
Even when jobs do make it to job sites, having a personal connection to the hiring manager must make a difference. There are usually a huge number of applications for every games job. This means that hiring managers have to find ways of identifying good candidates, and eliminating unsuitable people at pace. If the hiring manager recognises your name, it's more likely that you will make it through that first initial pass, and progress through to the interview and task stages where you can demonstrate your excellence.
So, how do we make sure that the hiring manager recognises your name? This is our focus for today's issue on networking.
Networking doesn't have to be corny handshakes, business cards and scary approaches across busy conference floors. This is helpful, because I'm no good at any of those. Instead, I wanted to share some of my own tips of what I have seen work well, and ask others in the industry their networking advice, to help you start a career in games user research. 
Get future issues direct to your inbox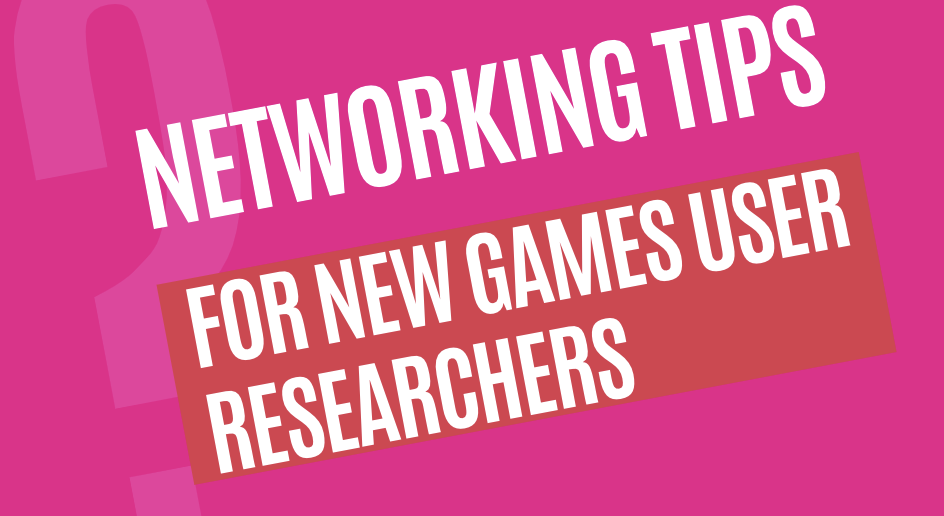 Be useful
That first approach to talk to a stranger can be very difficult. If you are doing something useful, or involved in an activity together that approach becomes much easier. It gives you a reason to be talking and something to talk about.
People new to the Games Research and UX community assume you have to be on the steering committee to start a new initiative or to help out. This is not the case – the conferences need volunteers, and the community welcomes new initiatives being led by anyone, regardless of experience. I started the mentoring scheme and jobs board, and both of these can always do with more support. As can the other initiatives that people have started, such as the excellent reading club.
Join the discord, see what is going on, and then volunteer to help out. It will give you something to talk about. As an added benefit people will start to come to you and open conversations, avoiding the need for intimidating approaches! 
Ask genuine questions
I have found the games research community to be very friendly, and willing to give up their time to people interested in understanding the discipline better. This has been evident through events like the office-hours initiative in the GRUX community. If you are not already part of the mentoring scheme, sign up for the opportunity to meet someone in the industry and learn about it.
Meet existing researchers, ask them about their role, how they got into the industry and show a genuine interest. It's often very obvious if you're just interested in a job, rather than treating every conversation as a learning opportunity (particularly if you keep scanning the room in a conversation at a conference rather than giving them your full attention). Leave everyone you speak to with a positive impression about you and your enthusiasm for games user research – It's a very small industry, and so you will bump into the same people again and again.
This will start to make connections with people outside of the job application process, and can inspire some great ideas about what you can do to get into the industry. We have an interview with Tyler Sterle coming up later in the newsletter where I did exactly that, and he gave some great ideas about his own journey.
Some of our experienced researchers had more advice about talking to people – more follows later in this newsletter!
You don't have to travel
The last year has highlighted how events can work remotely. The games user research community have done a great job of combining their conferences with socialising opportunities that work remotely. 
I have found this a great asset, and have appreciated being able to take part in conferences and events that would otherwise take too much time or money to attend, and join the social activities after.
I hope that events like the GRUX Online conference continue this tradition as the world re-opens. Keeping an eye on the GRUX discord is a good way to become aware of remote social opportunities.
Join the conversation
As well as the GRUX discord, games user research conversations are happening everywhere – the GamesUR twitter account does a great job at collating some of them. Find people talking about games user research by searching on the hashtags #gamesUR or #GRUX, and join in the conversations. Reply to other people's threads and ask questions. Eventually you will start to build up a network of people in the industry, and start to be recognised as someone serious about games user research.
I believe that questions reflect well on the person asking them (it's better to ask what might be a silly question than to remain ignorant). Here's me on twitter, if you want a friendly face to talk too.
Networking advice from the experts
I also asked the industry for advice about networking. Here's some of the excellent points they raised.
//1
Most of the people I know will kindly answer to someone who gets in touch in private messages on social media, or by email. Be polite, introduce yourself and briefly explain why you're sending a message. No need to try to impress, you're learning, it's cool.
Be patient, maybe the person won't have time now, but will answer later. Do not insist, look for someone else. And don't be angry if the person doesn't answer.
Finally, people are not your direct contact with HR. Do not ask for a job or training position, at least not right now.
//2
Try and find a buddy who can offer support and encouragement. It can be someone else trying to engage also, or someone already in the community (who can hopefully do a few introductions for you).
Also, remember they're just people 🙂
//3
Most people are in the games industry because they love games, and most people who love games love talking about games. That's maybe half the barrier to networking gone – you're joining a community who share the same passion and interests as you do! You don't get that everywhere.
An exclusive interview with Tyler Sterle
I first heard of Tyler when he joined the games research mentoring scheme from his very impressed mentor. There's a lot of inspiration from Tyler's journey for others interested in joining the industry. 
I asked Tyler about his journey to become a games user researcher. He had a lot to share including essential games user research resources, networking and making your own luck.
Read the full interview with Tyler on the website.

(Image credit – Alistair Greo)
Essential reading for new games user researchers
This month Alistair Greo (who shared some networking advice above) wrote an article about getting started in games user research, with links to some great resources (and the book!), and the GRUX discord.
Read Alistair's article 'Getting Started in Games User Research' here.
Work with Blizzard
Blizzard are currently looking for an Assistant User Researcher. Although this is only a temporary role, it would offer fantastic real life experience and would make getting future roles in the games industry much easier.
Read the full details of the Assistant User Researcher role at Blizzard.
What's coming up
Thanks to everyone who has sent in questions or inspiration for future issues. Some of the things we have coming up soon include:
Interviews with more games user research experts about their journey
Getting real experience before joining the industry
How does UX and User Research relate?
I also have started talking about my next project, which aims to help game developers run playtests. I will share more on this over the next six months. But don't fear – I have no intention to stop supporting How to be a games user researcher for a long time yet. We have some great bonus content being prepared, so do stick around!
As always, if you've found this useful – the most helpful thing you can do for me is to leave a review of my book on Amazon. The second most helpful thing you can do is tell someone else about the newsletter, and encourage them to sign up. 
Thanks friends, and have a great month!
Steve
Get future issues direct to your inbox