Start a career in
Games User Research
Get my free ebook of career tips from researchers at top game studios such as EA, Blizzard, PlayStation, Ubisoft, Activision and more. And new for 2023 – the secrets of hiring managers.
Plus receive a monthly email with free games user research lessons and curated Games UX and UR jobs.
Sign up now to get the free e-books (no spam, just a nice email from me each month!)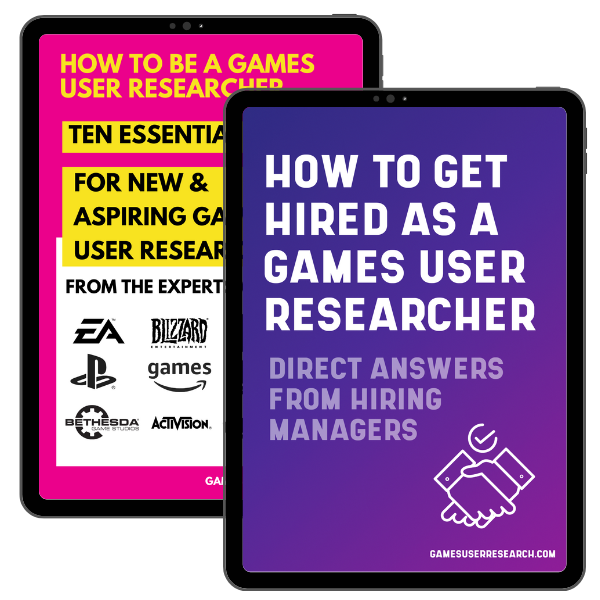 Start your career making games
Games user researchers run professional quality playtests to ensure games are understandable and enjoyable. This is a key part of making games that people love.
However it can be hard to start a career in games user research. You have questions such as
What research methods do I need to know?
Where can I find junior roles or internships?
How can I convince people I can do the job?
Why am I not hearing back from applications?
How can I transfer my skills from another career in to games user research?
How do I ace the interview?
It requires endless patience to keep applying and not hearing back. Sometimes it feels like it's never going to happen.
Proven success in unlocking games careers
You need help to start your new career.
I've led hundreds of people to their first role at top game companies. I've uncovered the secrets of hiring managers, and the steps you need to take to stand out from the crowd, make sure your CV gets read, and that you pass the test.
I know what research methods you need to master, and how to best show your experience to ensure you're ready to work in the games industry.
Get your first job in games
Join the newsletter today to get two free e-books of career guidance, including the secrets I learned when interviewing hiring managers about exactly what they are looking for.
Read my free articles explaining how research methods are applied in industry, and get prepared.
When you are ready, join one of our masterclasses or pick up the How To Be A Games User Researcher book to turbocharge your learning.
The video games industry is full of passionate people who care about making fun experiences. If you love games, and want to start a career you feel passionate about, join me on your journey to become a games user researcher.
Top articles for new researchers
17 Games UX Research Job Interview Questions To Prepare For
You've got the interview for the games studio of your dreams. Learn what you will be asked, and how to answer games user research interview questions.
How to get games user research experience (before you have a job)
No experience holding you back? Learn how to get games experience before you get your first job in games UX research.
Helping researchers get their first role at…
Kickstart your career in games
How To Be A Games User Researcher is the ultimate resource for aspiring or junior UX researchers who want to start a career in games.
Understand game development, run professional quality playtests, improve the UX of games and make games players love.
Plus master your games user research career, and learn:
How to get and demonstrate experience without a job
What skills are employers looking for?
How to prepare a CV and portfolio
What it's like working in the games industry
Start running playtests, getting job interviews, and making games better today.
Meet Steve
I am an expert user researcher, specialising in building new user research teams and games user research.
I work with studios of all sizes to run playtests, and integrate user research into the game development process.
Prior to this I was a senior user researcher for PlayStation and worked on many of their top European titles, including Horizon Zero Dawn, SingStar, the LittleBigPlanet series and the PlayStation VR lineup.
I started the Games User Research mentoring scheme, which has linked hundreds of students with industry professionals from top games companies such as Sony, EA, Valve, Ubisoft and Microsoft. I wrote the bestselling book How To Be A Games User Researcher to share the expertise needed to work in the games industry.
Get free
Insider access
Get monthly new articles teaching you how to start a career in the games industry

Join the most interesting conversations about games user research, discover job opportunities, and be introduced to new ways to think about developing your games user research career.